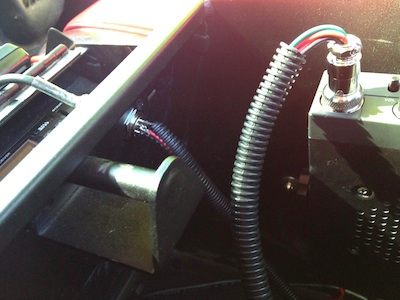 This time I wanted the CB mounted inside the console
—but I didn't want to have it open when driving so had to find a way to have the mic on the outside. I'd seen something on
JeepForum
about making an extension to run from the radio to the console so I thought I'd try that. A quick trip to Radio Shack and I had the two connectors necessary to plug into the radio itself and, through a hole drilled in the console, terminating in a connection on the console.
I located this new connection point inside the secure part of the console that encloses
the new stereo
.
That way I can just plug the mic into the console itself with the lid closed. I also had to drill a hole at the bottom of the console to insert the antenna and power for the CB. I put a rubber grommet in that hole to protect the wires. You can see where the come in in the picture above.

On the swing-out lid covering the stereo I attached the clip to hold the CB mic.